Communities Urge FSC to Ensure Implementation of Full Remedies for Their Damaged Territories
AURIGA - Few days back, on 9 to 14 October 2022, representatives of indigenous peoples and civil society organizations in Indonesia attended the General Meeting of Forest Stewardship Council (FSC-General Assembly) in Nusa Dua, Bali, Indonesia. This regular event was an important moment for the organization with membership of various backgrounds including non-government organizations, businesses, academics, researchers and indigenous peoples, from more than 40 countries aiming to promote a justice and responsible forest management.
They have raised concerns and shared the impact of the conversion and exploitation of natural forests by large corporations in their areas. These companies had controlled and destroyed vast customary areas with massive environmental and social damages. The indigenous people who attended are from Sumatra, Kalimantan and Papua.
Data from the Ministry of Environment and Forestry, in 2021, shows that more than 11.2 million hectares of forest area have been granted a Forest Utilization Permit (PBPH) for timber industrial plantations , and an area of ​​18.4 million hectares of natural forest PBPH, or previously called Business Permits Utilization of Natural Forest Timber Forest Products (IUPHHK-HA).
Over these concerns, indigenous peoples and civil society organizations urged the FSC to decide robust policies that would have a better impact on the environment and indigenous peoples. One of them was by strengthening the environmental and social remedy framework (Motion 45) by requiring all disassociated companies and/or new joiners of FSC to first complete their environmental and social issues before re-associating with FSC.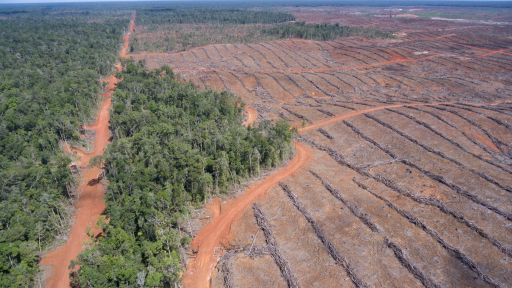 Deforestation in the concession of one of the Korindo Group's subsidiaries in Boven Digoel, Papua. This incident was reported by MIighty Earth to FSC. In October 2021, FSC terminated Korindo's certificate. However, it is suspected that Korindo still wants to re-associate the FSC certificate. Photo: Mighty Earth

Petrus Kinggo, an indigenous community from Dusun Kambenap, Jair District, Boven Digoel Regency, Papua, conveyed a message for forest certification policy makers, because they had experienced bad impacts from forest destruction, their rivers were damaged, forests where they used to hunt has been dec, and above all disasters kept occurring.
"We have witnessed how the activities of palm oil companies and industrial forest plantations have destroyed the rivers where we fetch water, the forests where we get food and material for housing", "Indigenous peoples live together with the land and the forest, if the forest has gone, how will we live?" Petrus emphasized.
FSC decisions and policies would affect the management of the world's forests, including Indonesia. Would the conditions faced by the community be resolved, or even get worse.

Deforestation is suspected to have taken place in the concession of PT Fajar Surya Swadaya (FSS), a subsidiary of the Djarum Group, in East Kalimantan. One of the Djarum Group's subsidiaries, PT Bukit Muria Jaya (BMJ), was previously FSC certified. Auriga Nusantara submitted a complaint to the FSC over the certificate because it was linked to (deforestation) FSS, and in December 2020 FSC terminated the BMJ certificate. Photo/animation: Auriga Nusantara, based on Landsat satellite imagery.
The cut-off date for forest conversion (deforestation) from 1994 to 2020, for example, had opened the door for companies that had cleared more than 2 million hectares of Indonesia's natural forests and were in conflict with hundreds of Indigenous Peoples and traditional communities, such as Asia Pulp and Paper (APP), APRIL, Djarum and Korindo to rejoin, and benefited from this certification. This condition puts FSC's reputation at high risk, if the opportunity to join these controversial companies was not accompanied by full implementation and strict monitoring of the implementation of the environmental and social remedy framework.
Sugiarto, the Musi Rawas community, South Sumatra, hoped that the Independent Assessors should be involved at early stage starting when identifying affected stakeholders or rights holders and affected areas. Information had to be conveyed in its entirety and accessible to the public. This was to avoid the potential for third party bias, unfairness and to prevent coercive agreements.
Aidil Fitri from the Hutan Kita Institute (HaKI) who was present as a speaker at the time said the issue of conversion and restoration was an important issue because today's issue was the issue of trust either in corporations and certification. "We, have hope in the FSC, to become one of the forces that encourage companies to be responsible for the environment and indigenous peoples".
The issue of sustainability performance and the resolution of social problems at the site level should be a reference in all FSC considerations starting from the preparation and establishment of a recovery framework to its implementation. In the future, the implementation of the recovery framework will be a measure of whether the FSC can control its logo holders to carry out forest management responsibly or not. Otherwise, the FSC will lose its reputation as a scheme to protect the world's forests and indigenous peoples.
In addition to that protection of community rights is important in all effort to save forests and the environment. "Indigenous people are the best forest caretakers as they care for, maintain and preserve forests as their source of livelihood", Martha Doq, Director of the Women's Conscience Association, who was present in Nusa Dua accompanied the Long Isun indigenous people affected by the Harita Group's HPH company in Mahakam Hulu.
Contact persons ;
Supintri Yohar (Auriga) : +62 813-7349-9788
Martha Doq (Female Conscience) : +62 811-5861-244
Hairul Sobri (HaKI) : +62 812-7834-2402